Audio & Video: Who Am I ~ Deji Gold [Twitter: @GoldAdedeji1 | Instagram: @Gold.Adedeji | Facebook: Gold Adedeji]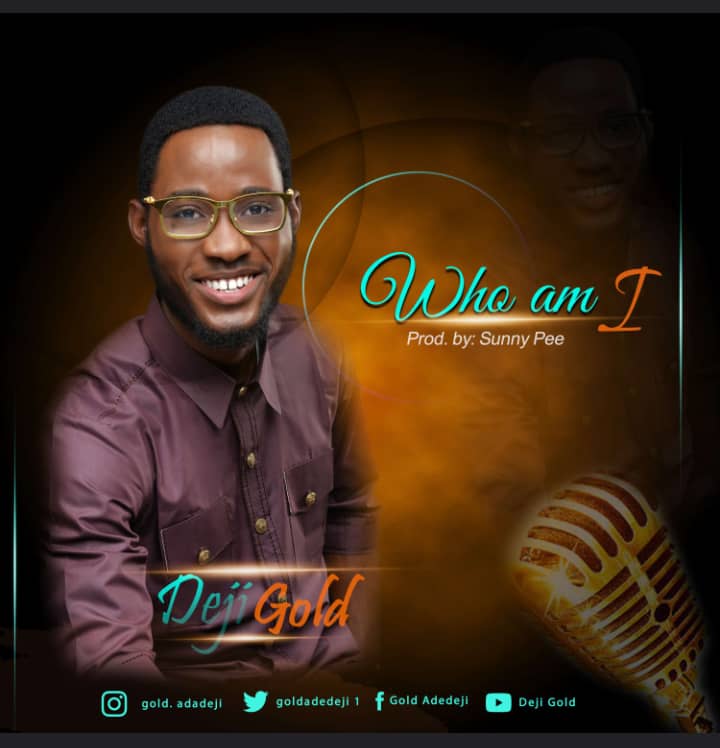 Singer, songwriter and music minister, Deji Gold releases a brand new single titled "Who Am I?"
In his words "The song "Who Am I" is a personal song inspired by the undeserving love of God towards me. I discover that when life gets really tough God shows up at that where it seems like there is no escape from the shackles of the devil.
"This song gives me an assurance that if a man's way is straight before the Lord, God by Himself will organise the life of that man to the glory of His name."
The song was produced by music maestro, Sunny Pee and the video directed by Charlie Gold.
Audiomack link: https://audiomack.com/deji_gold/song/who-am-i
Watch the video below:
WHO AM I – LYRICS
Who am I without your love and might
Without you my life go left and right
I seek your face
To make you reign in my life
And with you my life dey organized
And with you my life dey organized
You set me free, when chains hold me bound
Delivered me, when things turned around
Then I say that no one like you
There's no one like you
You set me free, when chains hold me bound
Delivered me, when things turned around
Then I say that no one like you
There's no one like you
Who am I without your love and might
Without you my life go left and right
I seek your face
To make you reign in my life
And with you my life dey organized
And with you my life dey organized
And I will prise you name
I will worship you
Cause you are everything
You mean everything
I will lift my voice
singing praises to your name
Cause you are everything
Everything
Who am I without your love and might
Without you my life go left and right
I seek your face
To make you reign in my life
And with you my life dey organized
And with you my life dey organized
Who am I without your love and might
Without you my life go left and right
I seek your face
To make you reign in my life
And with you my life dey organized
And with you my life dey organized
And with you my life dey organized
And with you my life dey organized
CONNECT WITH GOLD ADEDEJI ON SOCIAL MEDIA
Twitter: @GoldAdedeji1
Instagram: @Gold.Adedeji
Facebook: Gold Adedeji