Audio: Sleeping Man ~ Femi Bakare [Instagram: @FemioluBakare]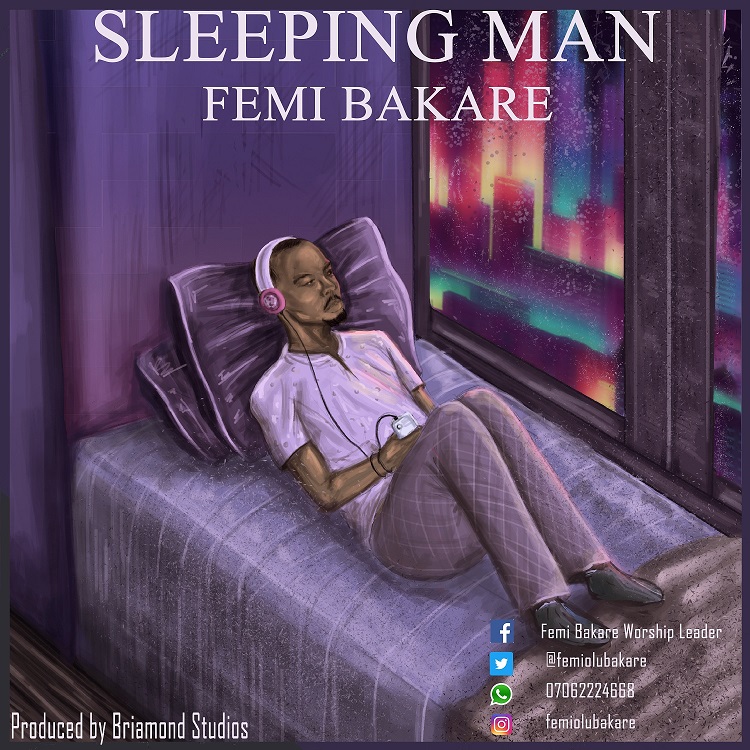 Following the recent successful release of the song Bamidele in March this year, which is still a great blessing to many within and outside the country. The multi talented and sonorous gospel art is here with yet another soul lifting song titled; Sleeping Man.
This is a song that is aims to keep us on our toes in actualizing our God given Mandate and destiny. This song will in no doubt serve as a tonic that will keep us going and unperturbed, even in the face of seemingly Insurmountable challenges. – Femi Bakare
About Femi Bakare:
Femi Bakare is a gospel artist based in abuja, Nigeria. Femi Bakare comes with a different and special feel to gospel music, with a different style powered by his sonorous voice as evident in his previous works.."Pada Sile, I'm Amazed, Your Song, Bimbadele and his latest work "Sleeping Man".
Femi Bakare's music and lyrics have an authentic, grateful and gracefully unique heavenly sound. That has been the testimony over the years; it is because he lives the life he sings about.  He stated that "His truth is being told" through the lyrics of his songs. His hope and prayer is that his songs minister to you and remind you of what is left to be done, so much more ahead of us, we can't afford to be complacent in this journey.
Femi Bakare at the moment is not signed to any record label, and will very much welcome a record label who will be willing to help push out his message.
CONNECT WITH  FEMI BAKARE
Twitter: @femiolubakare
Instagram: @femiolubakare
Facebook: Femi Bakare Worship Leader
SLEEPING MAN LYRICS
Sleeping Man,
Awake from your slumber, Awake
Sleeping Man
Awake from your slumber, Awake
Ise logun Ise
Mura Sise Oremi
Ise logun Use
Mura Sise Oremi
Sleeping Man,
Awake from your slumber,  Awake
Sleeping Man
Awake from your slumber, Awake
Ise logun Ise
Mura Sise Oremi
Ise logun Use
Mura Sise Oremi
How long will u lay on the bed of sorrow
How long will u lay on the bed of pain
No food for lazy man
Tepa mose o
No food for lazy man
Tepa mose o
Ole oma raye wa ooo
Ole oma raye wa
Ole oma raye wa oo
Ole oma rayewa
Sleeping Man,
Awake from your slumber, Awake
Sleeping Man
Awake from your slumber, Awake
Ise logun Ise
Mura Sise Oremi
Ise logun Use
Mura Sise Oremi
Sleeping Man,
Awake from your slumber, Awake
Sleeping Man
Awake from your slumber, Awake
Ise logun Ise
Mura Sise Oremi
Ise logun Use
Mura Sise Oremi
As u lay your bed na so u go lie on top
As u lay your bed na so u go lie on top
Too much sleep too much slumber
Ofolobade
Too much sleep too much slumber
Ofolobade
Farasise ooo while u still can
Tepamose oo while u still can
Farasise ooo while u still can
Tepamose oo while u still can
Sleeping Man
Awake from your slumber, Awake
Sleeping Man
Awake from your slumber, Awake
Ise logun Ise
Mura Sise Oremi
Ise logun Use
Mura Sise Oremi
Sleeping Man,
Awake from your slumber, Awake
Sleeping Man
Awake from your slumber, Awake
Ise logun Ise
Mura Sise Oremi
Ise logun Use
Mura Sise Oremi