Music: Restorer ~ Olawunmi [@Olawsolomon]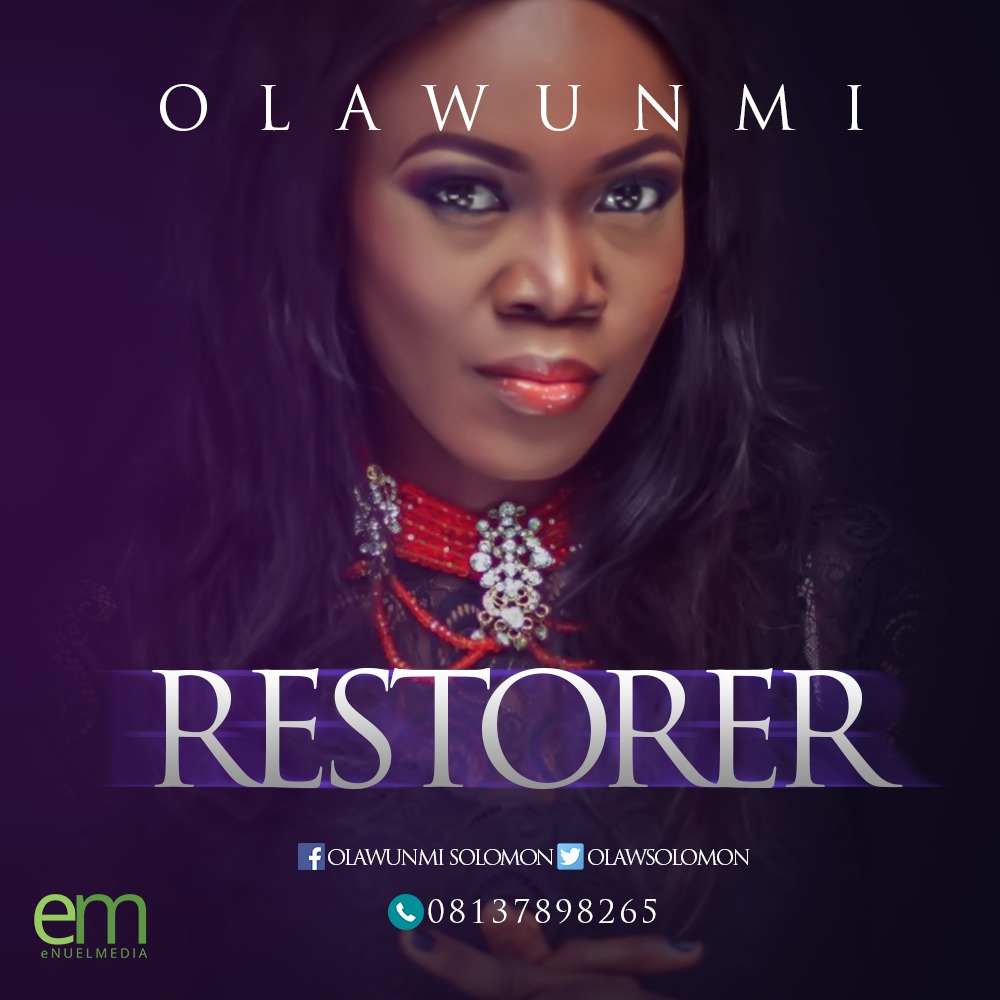 Fast and rising sensational gospel music minstrel, Olawunmi Solomon 'OLAWUNMI' finally releases her debut single titled 'RESTORER' (Produced By O'Keys Music) to edify the entire christian community and her growing fans who could never get enough of her during her stage ministrations.
"It is a story that earmarks my many struggles and recounts the tales of my challenges in the music industry and entire life. Life is full challenges, and for me, praising God has me afloat in the midst of the storm. Through it all, God has restored me and given me a new song, hence the birth of 'RESTORER' – Olawunmi
ABOUT OLAWUNMI
The gorgeous and quite exquisite lady is a native of Ogun state but was born and bred in Ibadan City. She attended the prestigious Sacred Heart Private School Ring-Road and proceeded to Queens' School Ibadan for her secondary education. She has her first degree in Computer Science from the world acclaimed Lead City University.
By far one of the best voices to emerge from the town of Ibadan, she has worked with gospel acts like Big Bolaji, Yetunde Are and Edwards Sunday to mention a few.
Olawunmi who started singing in 1998 says her mentors are Yetunde Are and Efe Nathan. She however admires the voice of Karen Clark Sheard. She has Role models spanning from Yolanda Adams to Kim Burrel, Candice Glover, and a few others.
With a voice that could make Angels blush, Olawunmi skillfully manipulates her voice as she dazzles audiences across the country while playing around the fuji genre of gospel music. She seems to be very talented and relaxed when she uses different musical styles to praise and worship her maker.
Her ministration at DAYSTAR CHRISTIAN CENTER being one of her most remarkable ministrations, according to her, she says it was a crowd capacity of more than two thousand and she witnessed the manifestation of the spirit like never before.
When asked about the best comment she has gotten so far in the course of her countless ministrations, she says and I quote, "You have a voice mightier than your stature".
She further explains that gospel music is definitely making waves as the stereotypical part of it is gradually washing away. She believes that as far as the music preaches Christ, it doesn't matter what style you use. She says, as someone who has mastered the art of musicianship, the singer must be able to be dynamic and switch styles at whim depending on the audience and flow of the Spirit. All in all, she says one should let him or herself to be used to the glory of God.
The worshipper affirms that she has the backup and genuine support of her parents all the way who are also Pastors.
The ace praise and worship leader is a studio rat who has worked with innumerable producers and has featured in several collaborations with gospel singers across the country but never recorded her own song until now.
She is open to invitations for more collaborations and ministrations in churches worldwide. Her manager could be contacted for further communication.
CONNECT
Twitter: @Olawsolomon
Instagram: @Olawsolomon
Facebook: Olawunmi Solomon
Management: 08137898265