Music: Most High ~ Newtone [@InnocentAweto]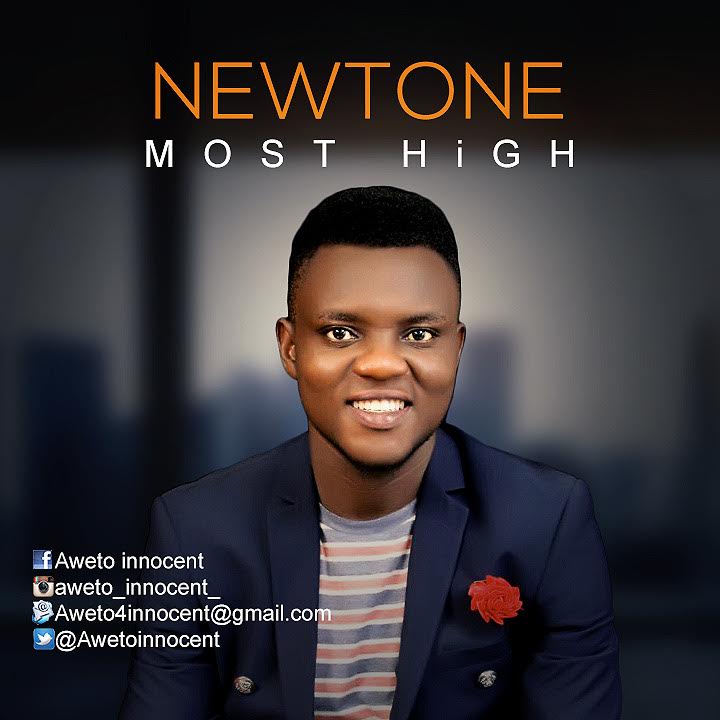 AWETO INNOCENT is a multi – talented musician, song writer and a recording artist. His strong passion for God and gospel music with the inspiration from the Holy Spirit prompted him to release songs which have tremendously blessed the body of Christ today.
He fellowships with Living Faith Church (aka Winners' Chapel) and he is popularly known as NEWTONE by the Winners' family and his music fans. A gospel musical group known as "The Hebrew Boys" was founded by him in the year 2010, and by this wonderful group, a mind-blowing album titled "OPEN CHEQUE" was produced the following year 2011. The album was such a blessing to the Winner's family, His musical career took a greater dimension in 2016 when he came out with a personal single titled #youareable# produced by Johnny Drille.
His latest song titled Most High has just been released!
DOWNLOAD
LYRICS
Verse1:
I wish I could lift my hands higher than I can to You,
I wish I could have more than one mouth to sing more of Your praise,
If I could be made one of the angels that daily sing Your praise ,
I will bow my knees and sing of Your praise, 
Who can deny the fact that You are powerful,
When You've hung the sky above the earth with the words of Your mouth,
A million words cannot explain exactly what You are ,
You're far beyond what words can explain.
Chorus:
You are the Most High,
You are the Most High,
The Most High God(repeat).
Verse2:
If I can praise You a thousand times a day it won't be enough,
Cos no verse no chorus can express Your worth,
Men and angels are singing holy holy through eternity,
But its still a drop compared to what You deserve,
Who can deny the fact that You do miracle,
When You've made a way through the middle of the sea,
A billion words cannot explain the greatness of Your power,
You are far beyond what words can explain.
Bridge:
So many times I've tried to explain,
The kind of God that You are,
But my words were never good enough,
For the kind of God You are.