Music: I Will Praise You ~ Tobby Joe [@tobbyjoe1]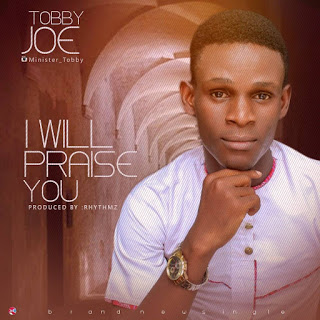 Fast rising Nigerian music minister "Tobby Joe" drops new worship Single titled "I WILL PRAISE YOU ".
Tobby Joe, communicates who God is and why he should be praised and Worshipped.
The Ibadan based minstrel describes this song as, in his words "A piece of my heart about what I feel for Jesus…"
Download, listen, enjoy and share!
LYRICS
VERSE 1
You are God
All by Yourself
Not voted in
Cannot be voted out
You are God
All by yourself
You're mighty to save
And mighty to heal
VERSE 2
You are God
Glorious in holiness
Fearful in praises
Matchless in splendor
You are God
You reign in majesty
Nobody like You
Jesus nobody like You
CHORUS
Agam aja gi nma Chineke
Agam aja gi nma Chineke
Agam aja gi nma Chineke
From age to age
I will praise You
VERSE 3
You are God
Elohim is your name
Elshadai that can never ever die
You are God
From age to age
You remain the same
But too deep to comprehend
(back to second verse then chorus)
BRIDGE
Call: Who placed the Sun in the sky
Resp: You are
Call: who rules the Day and Night
Resp: You are
Call: Who made my life beautiful
Resp: You are
Call: And at whose name do demons flee
Resp: Yours
CONNECT
Instagram: minister_tobby
Facebook: Tobby Joe
Twitter: tobbyjoe1