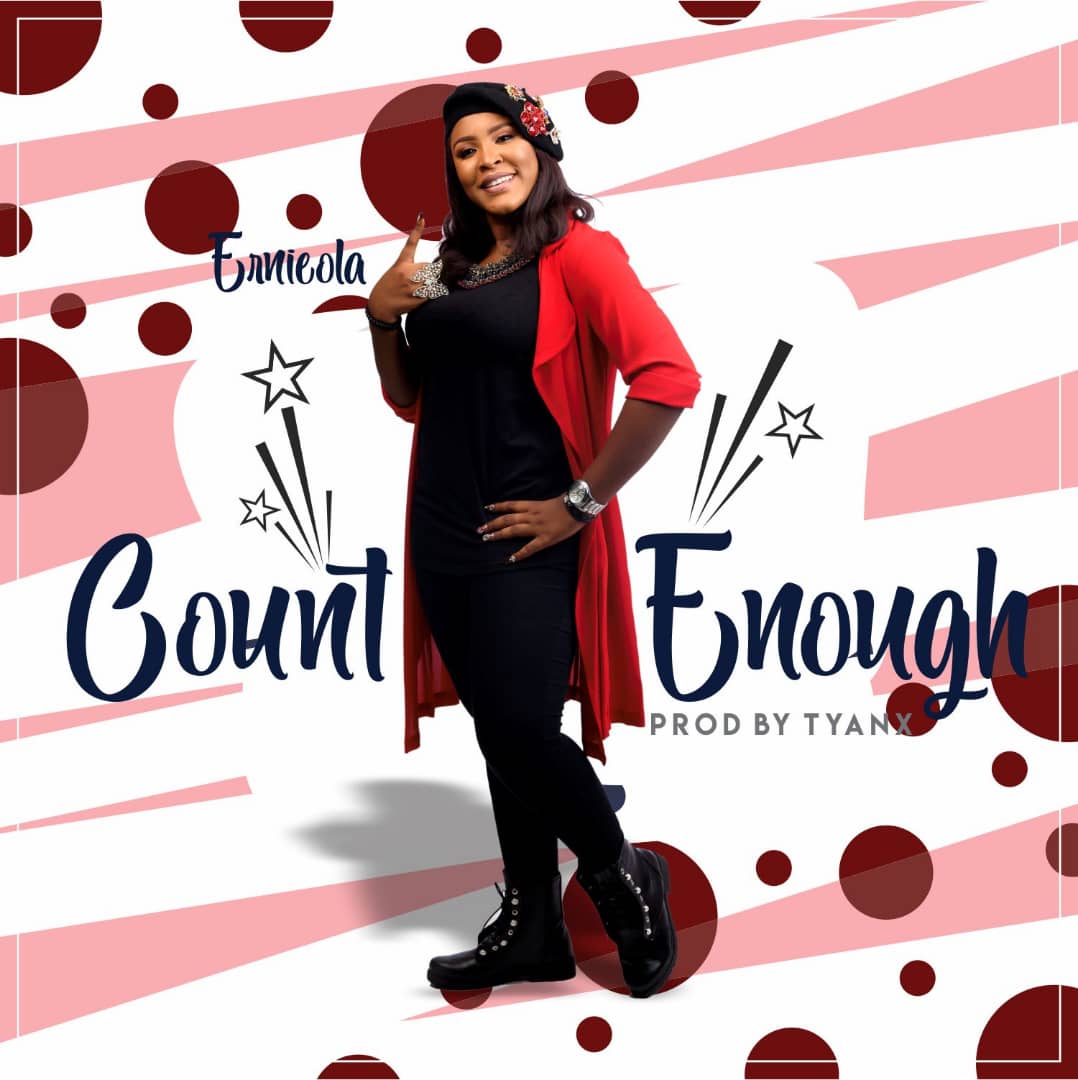 Nigerian Music Minister and Renowned Vocal Coach, Ernieola drops her much anticipated single titled: "Count Enough"
In Ernieola's words:
"Wow… "Count Enough" is here and I am super excited. Finally we have a thanksgiving song!!!!! Hallelujah!!!. This song was inspired by my biological Father (Mr Afolabi Olumuyiwa Olusoga), made flesh and put together by myself, my friend (Davina), the producer of this music (Tyanx), Adam of Spaghetti records and Jaming of INGY records all to the glory of God and for the sake of the gospel of Grace (JESUS). I believe without any form of doubt that this music will bless you, you will be thankful and grateful for being a creation of YHWH (The Sovereign God)".
ERNIEOLA (Eniola Olusoga) is a Praise Warrior,Worship Leader, A musicologist, Vocal coach, Event/Project Manger/PR personnel & also a fashion consultant, She has being empowered to grace platforms locally & internationally (Across the globe).
Founder of the annual kingdom trending event "WordWorshipWarfare" (WWW),
She obtained A National diploma degree in Civil Engineering.
Where afterwards, she practised in the Road maintenance field for a while (worked in FERMA (Federal Roads Maintenance Agency Lagos). A grade 7 certified musicologist of MUSON (Musical Society of Nigeria) (Voice major). And a student of the music department (Creative Arts) of the University of Lagos.(Unilag)
The Female Afro Fusion artiste & Minister is all about spreading Joy and bond amongest believers and also in God's kingdom.
Enjoy this beautiful thanksgiving piece by your gospel sweetheart "ERNIEOLA" (Ernieola Olusoga).
Download and Share.
DOWNLOAD
LYRICS: COUNT ENOUGH BY ERNIEOLA
1 2 3 4
Eeeeeeeeeeeeee GBESE
O o o o o o oooooooooowwww
VERSE 1:
You have done something in my life
I will forever testify
You have done what no man can do
You have done something for me
CHORUS:
(So I say)
1 2 3 4 Counting my blessings
For your grace I am
Counting my blessings
1 2 3 4 Counting my blessings
I Can't COUNT ENOUGH (2X)
VERSE 2 :
Started from the bottom
Now we are here
Life in Abundance
There is no more redundancy
Blessings all over
Jesu lo da mi Lola
I can't COUNT ENOUGH
REFRAIN :
You made me all i am
You gave me all I have
The lifter of head
You never fail (allllll)
Back to chorus (2X)
VERSE 3 :
You too dey bless me
I no fit calculate o
Na overflow come join me celebrate o
I no deny am Jesu na your grace o o
I can't COUNT ENOUGH
Back to REFRAIN
Back to CHORUS
CODA/OUTRO
Put your hands in the air
Put your hands in the air
Put your hands in the air
Put your hands up in the air
(Eeeeeeeeeeeeee GBESE)
Hands up in the air
Joy in the air
Hands up in the air
Joy in the air
Jesus everywhere
Blessing in the air
Jesus everywhere
Favour blessing everywhere
Back to CHORUS… (End)
 CONNECT
FACEBOOK | TWITTER | INSTAGRAM: @ernieolaolusoga