Audio: Its My Season ~ Eikos [Instagram: @OfficialEikos]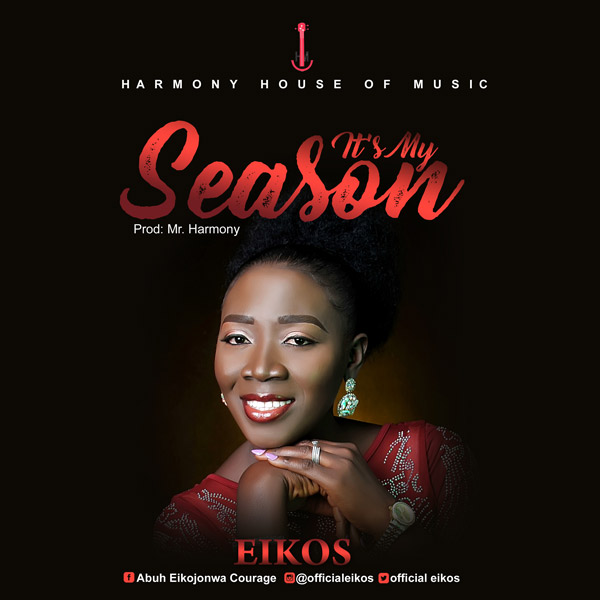 Nigerian gospel artist, Eikos releases her anticipated new single titled "Its My Season", available for download and streaming platforms.

Eikos is a gifted gospel music artist based in Nigeria. Starting her music journey a few years ago, she embraced her unique gifts and calling to gospel music and the spreading of God's word and kingdom through songs. She releases this latest song offering titled "Its My Season" as her first song release in the year 2021.

IT'S MY SEASON by Eikos is one song the LORD GOD will use to turn your life around, your current level not withstanding GOD is set to lunch you yet into another season, get ready because it is definitely your season. Producer : Mr. Harmony.
LYRICS
IT'S MY SEASON
Intro——-
I perceive something( something good)
I perceive favour
Perceive favour
I perceive breakthrough
Perceive breakthrough
I perceive success
Perceive success
I perceive lifting
I perceive something—-
Chant
How many of you perceive something today? Begin to proclaim what you perceive
Chorus
It's my season of favour
My season of favour
It's my season of favour
My season of favour
It's my season of favour
I know
Interlude
Oh it is your season of favour
You're breaking limits
You're going higher
The gate's are opened
Barrenness is over
Your chains are broken
Your pains are over
Your tear's are wiped off
That case is settled
Cos it is your season
The seige is over
Your healing is settled
I know it is your season
I know I know I know—
Chorus
It's my season of favour
My season of favour
It's my season of favour
My season of favour
It's my season of favour
I know
Has The LORD ever said a thing to you ( has He said a thing to you)
Just believe Him
He's not a man that He should lie only believe Him ( only believe Him)
Men may have mocked you before now
But it's your season
Men may have mocked you before now
It is your season
Oh it is your moment
It is your hour
Your turning is right here
It is your season
Yes it is your season I know
Chorus
It's my season of favour
My season of favour
It's my season of favour
My season of favour
It's my season of favour
I know
Social media
You tube: eikos global tv
Facebook: Abuh Eikojonwa Courage
Instagram: @officialeikos
Twitter: @officialeikos