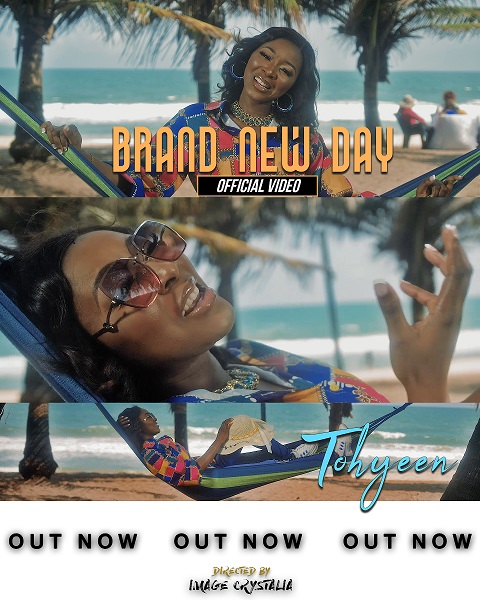 Gospel music minister Tohyeen releases the video for the single titled "Brand New Day."
The single is declarative. The year 2020 has been very eventful as the world deals with the global pandemic amongst other tragedies that brought about all sorts of loses. Lives were painfully lost, political and economic meltdown that affected the whole world, Natural disaster and more.
Despite all, the love and the assurance that we have in Christ of remains constant. Thus, Tohyeen declares that it is a brand new day.
"A brand new chapter is here because God has promised it, we believe it and it is settled!" She posited.
Following the release, Tohyeen has said that there is going to be a Watch Party on her Facebook page by 1pm WAT, today, for the world wide premiere of the video.
Oluwatoyin Modupe Oyekan also called Tohyeen has been a songster from childhood. Tohyeen's music ministry was officially commissioned in January 2007. She is known for her unbeatable chase for God's presence and passion to make God's glory evident in the place of worship. Her voice resounds and brings healing to the broken-hearts and restoration to the lost.
Oluwatoyin is currently serving as part of the notable choir of the House on the Rock Church, called the Rock Cathedral Gospel Choir. She has been on several occasions a background vocalist for Notable artists Such as Onos Ariyo, Eno Michaels, Sammie Okposo, Segun Obe, Nikky Laoye and more
In 2019, Tohyeen got signed to Team God Ent. LLC, a record label based in Belleville, Michigan. Her releases include  "No One Like You," featuring Neon Adejo. The song was also complemented with a beautiful video. She also release a beautiful song in December 2019 titled "Jesus at Christmas."
Her music genre revolves around soul and Contemporary Gospel music.
"Brand New Day" was produced by Nelson Jason, the video was directed by Image Crystalia.
Watch video below:
https://www.youtube.com/watch?v=7Q_rpaWaues
Get Audio:
https://music.apple.com/us/album/brand-new-day-single/1531000551
Connect:
Instagram: @tohyeen_official
Facebook: @tohyeen | Oluwatoyin Oyekan
Twitter: @olutoyinoyekan
For local bookings:
Email: officialtohyeen@gmail.com