Folarin & Keziah Unveil Debut Album Cover, Available For Pre-order Now! [Instagram: @Folarin_Keziah | Twitter: @FolarinKeziah]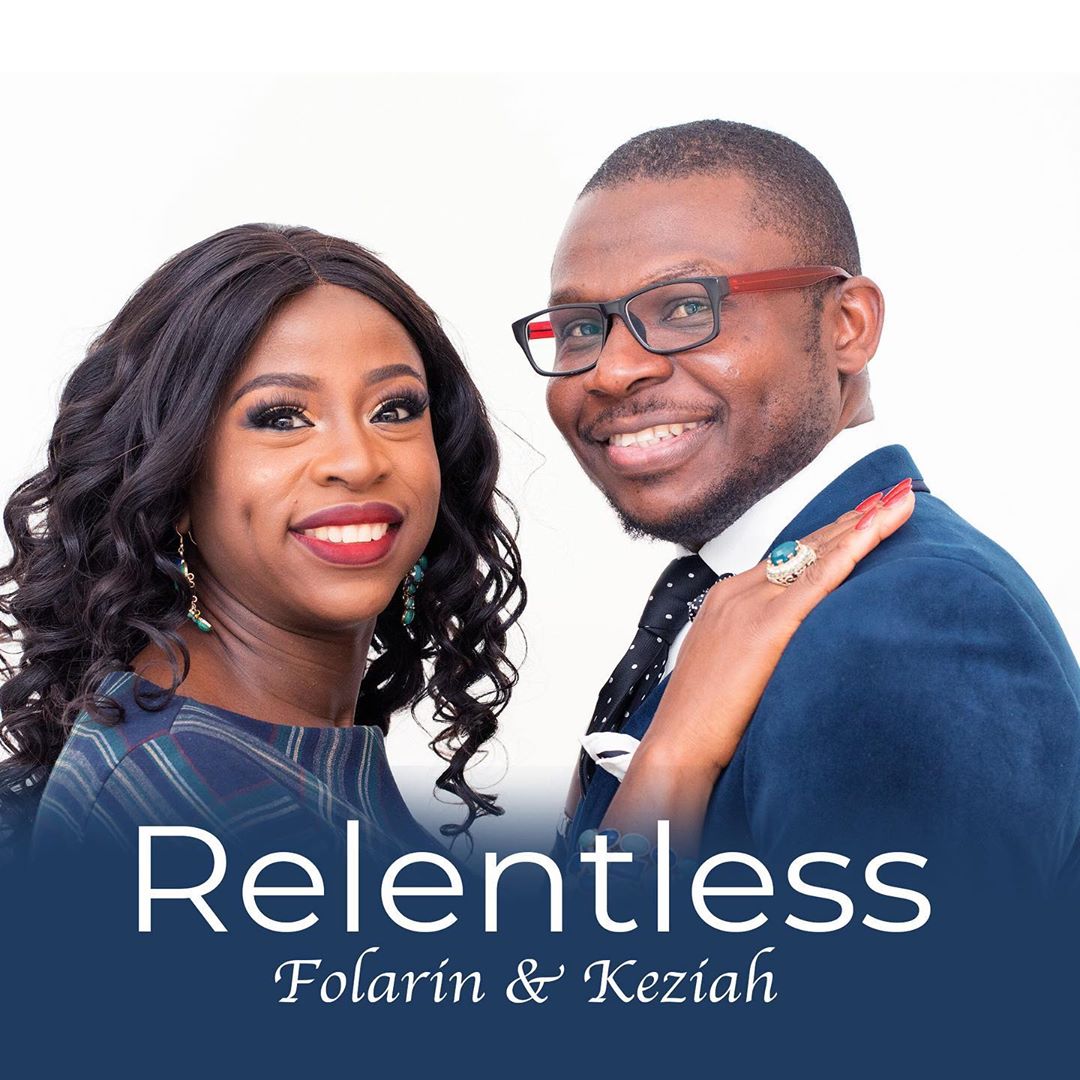 Christian/Gospel music duo, Folarin & Keziah have unveiled the album cover for their debut album RELENTLESS with pre-order available now on iTunes, Apple Music and Google Play.
The highly anticipated 14-track album is scheduled for release in December and it features the lead hit single "Jesus Is Alive" and other uplifting, potent songs such as "You Deserve", "You Are My God" and "Surrendering All."
Commenting on the new album, Folarin and Keziah shared: "Our debut album "Relentless" is scheduled to be released on December 6th 2019 and we are beyond excited to share our album cover art with you. As we countdown to the release date we can't help but reflect on the relentless love of God towards us, it's never ending, it's unwavering and it keeps on reaching out to us. His love never fails.
"We can't wait to share this offering with you. Stay tuned and look out for more updates on our social media platforms and also on our website."
PRE-ORDER VIA ANY OF THE LINKS BELOW:
iTunes:
 http://itunes.apple.com/album/id1487802914?ls=1&app=itunes
Apple:
 http://itunes.apple.com/album/id/1487802914
Google Play:
 https://play.google.com/store/music/album/Folarin_Keziah_Relentless?id=Btoymo2ne2bipg4jjrs2q7szbpy&hl=en
ABOUT FOLARIN & KEZIAH
Hamilton Ontario based contemporary Christian/Gospel duo; Folarin & Keziah, defy traditional norms as they burst unto the Canadian music scene with their eclectic style of high energy, exuberant praise, heart-felt and passionate worship. This Covenant Award nominated duo are set to take it to the next level with the much anticipated release of their debut album 'Relentless' which promises to be laced with songs of praise, worship, adoration and devotion to God, all written and performed in a way that resonates universally with everyone.
Upon relocating to Canada in 2012, Folarin & Keziah started sensing a call to take their music beyond the traditional setting of the local church in a bid to reach not only the churched but the unchurched as well.  "We started meeting and making friends with lots of people that were into mainstream music. They showed interest and so much support for our music but quite reluctant to come to church". They soon went to work creating a fresh sound with broad appeal working with the likes of Amy King White of Grant Avenue Studios, Hamilton and Samuel Williams of Samsound Productions, Toronto.
Building a reputation for themselves in the Greater Toronto and Hamilton area of Ontario, Canada, Folarin & Keziah were soon acknowledged as singers/songwriters and worshippers that are sensitive to the multicultural needs of the modern church and able to speak to the diversity pervasive and celebrated in the Canadian society.
2019 was the big breakthrough year for Folarin & Keziah, with the release of their first single and acclaimed praise and worship anthem "Jesus Is Alive". This release was followed by three more singles "You Deserve", "You Are My God" and "Surrendering All". "You Are My God" recently earned a nomination in the "Gospel Song of the Year" category in the 41st Annual Covenant Awards Nominations for the Gospel Music Association (GMA) Canada. Folarin & Keziah also started their own independent music label God Colors Media Inc. to produce, publish and promote their music.
The music produced by the duo was born out of the need to write, produce and perform original music content that cuts across multiple genres of music from contemporary gospel, to praise and worship, to Christian pop and soft rock. Folarin & Keziah have a passion to write songs that invites heaven to earth while also evoking a response to God's relentless love, grace and mercy. Based on their experience of living and leading praise and worship in Nigeria, England and Canada, Folarin & Keziah are intentional about transcending the boundaries of color, culture and creed so that everyone can experience the love and forgiveness of God.
Folarin & Keziah have a heart for God and people. They express their music genuinely from the heart in a way that combines art, scripture, and song in perfect unison. Folarin & Keziah's unique style includes melodic hooks, deft arrangements, and lush harmonies that provide the right foundation to support the core of each song.
The duo will be releasing their debut album "Relentless" in December 2019, followed by a Relentless tour through major cities in Canada and Internationally. Catch up with Folarin & Keziah and learn more about their music and activities on:
Facebook: http://www.facebook.com/folarinandkeziah
Instagram: http://instagram.com/Folarin_Keziah
Twitter: https://twitter.com/FolarinKeziah
YouTube: https://youtube.com/Folarin and Keziah
Website: www.folarinandkeziah.com
Booking and Management: GOD COLORS MEDIA INC.
Contact Email: godcolorsmedia@gmail.com
Contact Number: +1 289 700 8543