Interview: "I Sing Nothing But Good News" ~ Bola 'Bethany' Thani [@BolaThani]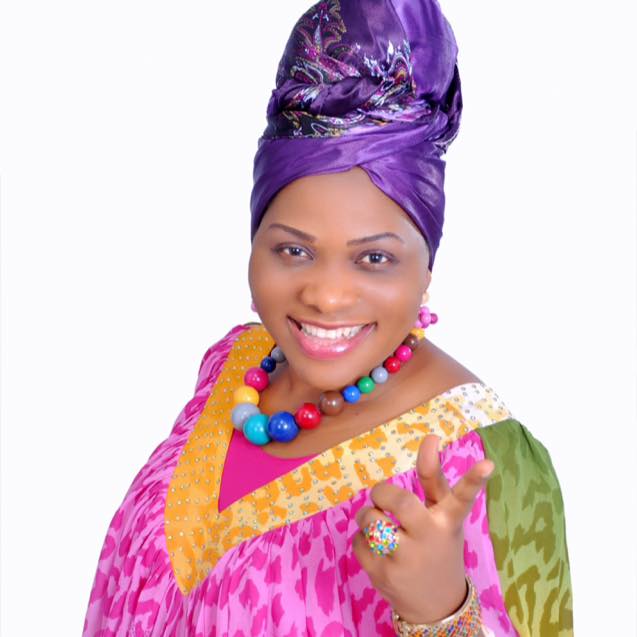 GospoGroove had a chat with anointed Gospel singer, Bola Thani also known as 'Bethany' recently. Enjoy reading…
GospoGroove: Your music background?
Bola 'Bethany' Thani:
 Music runs in my family. I grew up knowing my father as the church organist till he died at the ripe age of 84 years. We were all encouraged to embrace music, so all the children naturally and willingly participated in the church choir. While my other siblings grew up and ventured into other careers respectively, I have ever remained and loved being in the choir despite my profession as a graduate of Mass Communication and an entrepreneur.
However, I began professional music in 2006 with the release of my debut album titled 'His Majesty', the sophomore in 2009 and then the 3rd in 2013. My latest works are 2 singles – "Tambira Jehovah" and "Misi Misi" both released in December 2014.

GospoGroove:
How would you describe your music?
Bola 'Bethany' Thani: 
My music can be described as Inspirational i.e. Christian & gospel, Contemporary gospel, Praise, Worship, Traditional gospel. I sing nothing but good news because the world is filled with more than enough bad news. People are yearning for messages  of hope which is replete in the Bible.
GospoGroove:
Congratulations on your latest album. Please tell us about it.
Bola 'Bethany' Thani:
Thank you. My latest album 'Pentecost Praise' was released in August  2013. A 10 track piece.
GospoGroove:
Have you shot a video for any of the song off the album?
Bola 'Bethany' Thani:
Oh yes I have shot 3 videos off the album – Worthy Are You (directed by Akin Alabi), Pentecost Praise (directed by Stan Aneto) and Halleluyah (directed by Playright Ent.).
GospoGroove:
What's your take on the quality of gospel music videos in this part of the world?
Bola 'Bethany' Thani:
I've had so many terrible experiences and I can categorically say that the stakeholders need to do a total overhauling and sanitizing of the industry because it is filled with junks. I think it should be well regulated such that it will be difficult for unprofessionalism to gain ground.
However, we are definitely not where we used to be. Gospel music videos now compared to about a decade ago are breathtaking.
GospoGroove:
You went on a music tour of the United Kingdom recently. How did it go?
Bola 'Bethany' Thani:
Quite fantastic! We ministered in London, Bristol, Manchester and Essex. We've had several testimonies as a fallout from the ministrations.
GospoGroove:
What do you want listeners to take away from an experience with your music?
Bola 'Bethany' Thani: 
A touch from God. A message of hoping against hope. Mourning into dancing and the oil of joy is exchanged for the spirit of heaviness. Deeper in love with God. The emptiness and vagueness of this world compared with the glory ahead which must not be missed.
GospoGroove:
In your opinion, what is/are the major challenge(s) gospel artistes face and how can it be surmounted?
Bola 'Bethany' Thani:
I call it the 3 M's. Money, Music, Man.
Money – the Bible says it answers all things. Finance is a major challenge for gospel artistes. Money is needed from start to finish and good music costs good money! In this part of the world, the artiste is the songwriter, the producer, the marketer, the distributor. All in one. 
One can only surmount this by casting all these cares on Him. If He called, He'll supply. Not many churches have the understanding of supporting artistes but thank God for the few that have it and God bless them richly for that. We may never know, that singular act may be counted for them as righteousness.
GospoGroove:
You are a wife, mother, entrepreneur and music minister… How do you juggle all these successfully?
Bola 'Bethany' Thani: 
It's only a woman that can perform several roles at the same time. A woman while cooking in the kitchen can at the same do some laundry and in between breastfeed her baby. Women were naturally created by God to be better managers and that's why God called us a help meet for the man – to help manage him and make him better organized because it is not good (very bad) for man to be alone.
In my 15 years of matrimony, by His grace I have successfully juggled the roles of a wife, mother, entrepreneur and music minister. The home however takes priority. No home, no ministry. If one fails in the home, you have failed in all.
GospoGroove:
Your biggest musical influences?
Bola 'Bethany' Thani:
Mama Bola Are, Mama Shirley Ceaser, Lara George and Cece Winans.
GospoGroove:
Where do you see yourself in the next five years?
Bola 'Bethany' Thani: 
A gospel music icon, with loads of protégés. I want to build the biggest ever concert venue in Lagos, Nigeria with the best equipment.
GospoGroove:
Message to your fans.
Bola 'Bethany' Thani:
Thank you for your unflinching support always.
Please don't fail to let us have your feedback. We love to hear from you at Bethany Tunes. Remember without you, there can't be us. Jesus loves you like no other person does. Wishing you a most glorious 2015.
GospoGroove:
Thank you for your time.
Bola 'Bethany' Thani:
Anytime, GospoGroove.
***Bethany's 2 singles titled "Tambira Jehovah" and "Misi Misi" were released on December 14
th
, 2014. These singles are still currently enjoying massive online downloads and radio airplay.
DOWNLOAD "Tambira Jehovah"
DOWNLOAD "Misi Misi"
Watch "Pentecost Praise" Official Music Video below:
Event Listings:
1. An Evening of Worship with Bethany Bola Thani – 18/01/2015
2. Bethany & The Healing Streams – March 2015 (holds quarterly)
3. 73 Hours Praise – March 2015
4. Annual International Musical Tour – July/August 2015
5. Bristol 2015 – August 2015
CONNECT
Twitter: @BolaThani
Instagram: BethanyBolaThani